It's Talk Like A Pirate Day and we have a question for you.
I have Amy from the
Doctor Who
episode "The Curse of the Black Spot" :
Amy and the words are cheese on top of rotini. The top left has dried cranberry "rubies" and pineapple "gold." The top right has Totally Ranch Munchies snack mix (that I totally swiped from John).
So I guess that means John must have the rubbish pirates!
John's peach muffin is in a pirate muffin paper (trust me) with a skull and crossbones ring stuck in the top. There are also pirate face rings around one of his cheese stick pieces and one of his turkey sticks (he says that they're friends of Jake and the Neverland Pirates) and a Jolly Roger pirate flag sticking out of his clementine.
Now if you click on the pirate flag below you'll be taken over to see what pirate fun is happening over at
Glory's Mischief
!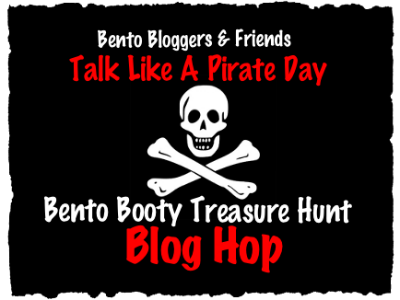 But don't walk the plank quite yet!!!
Every blog in the hop has a piece (or two) of the map to the bento booty treasure - a giveaway! As you go through the hop, collect the pieces and put them in the right order to find out where to enter! You'll probably need something to write with, because there are 39 blogs to visit, so 39 pieces to collect! 37 pieces will spell the URL, and 2 bonus pieces with words on them will get you 2 entries to win!